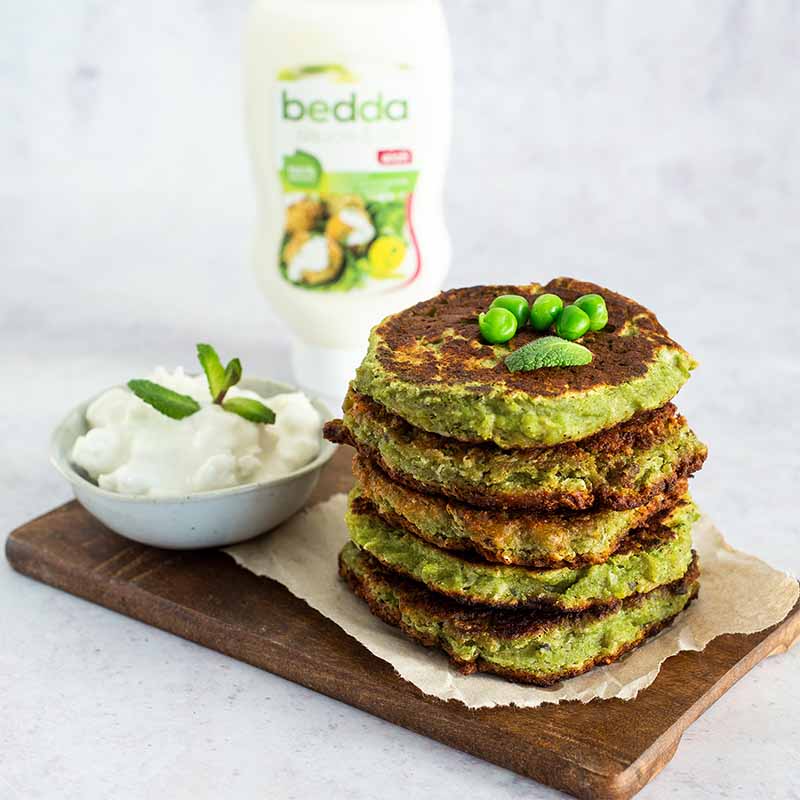 Vegan vegetable patties
Prep Time

30 min

Cook Time

5 min

Total Time

35 min
INGREDIENTS
For the veggie burger:
Burger Buns
tomato
red onion
bedda Creamy Spread Bell Pepper
bedda Garlic Aioli
bedda Slices Cheddar Style
arugula
For the vegetable patties:
1 carrot
0,5 zucchini
1 onion
75 g sunflower seeds
1,5 tbsp. chia seeds
4,5 tbsp. water
75 g breadcrumbs
4 tbsp olive oil for frying
40 g dried tomatoes
40 g pitted black olives
Spices salt, pepper, oregano
INSTRUCTIONS
1
Mix the chia seeds with the water, stir well and leave to swell for 15 minutes.
2
Meanwhile, peel the carrot, wash the zucchini and grate both finely.
3
Toast the sunflower seeds in a pan and then put them in a bowl.
4
Finely dice the onion and fry in the pan with two tablespoons of olive oil. Add the grated vegetables and also fry for about 5 minutes. Then remove the mixture, add the sunflower seeds and then season with salt, pepper and oregano as needed.
5
Add the chia seeds and breadcrumbs to bind the mixture and knead well.
6
Form patties and fry until desired browning in remaining two tablespoons olive oil.
7
Assemble veggie burger:
Spread the burger buns with the bedda Creamy Spread Bell Pepper and top as desired.
We recommend fresh vegetables, our bedda Slices and the bedda Garlic Aioli.
Fries taste great with this!