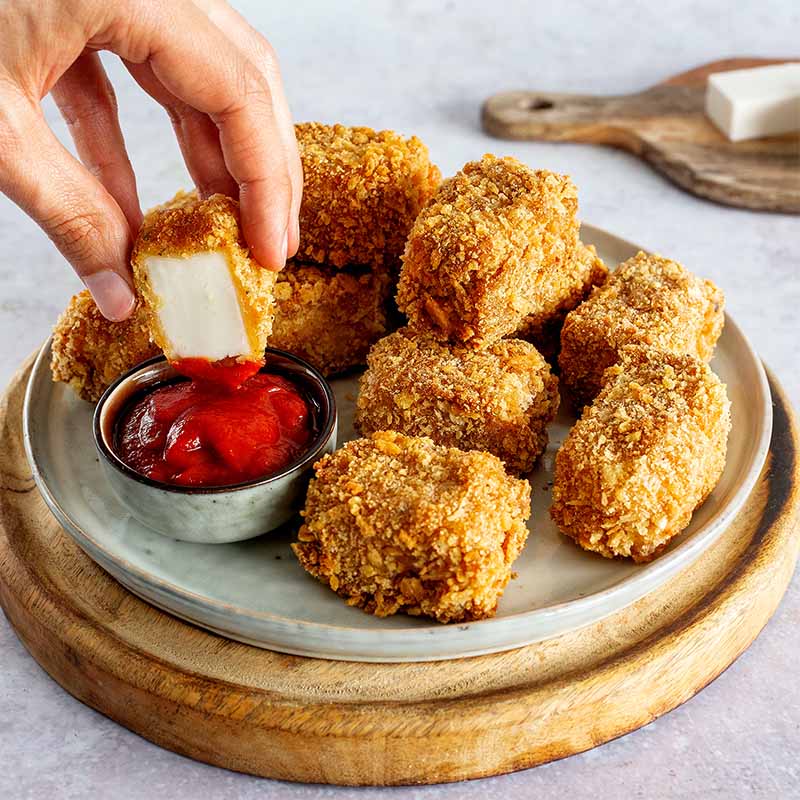 Deep fried vegan greek style cheese with tartar sauce
Prep Time

20 min

Cook Time

2 min

Total Time

22 min
INGREDIENTS
For 3 person:
1 bedda Greek Style
50 g + 20 g flour
100 ml oat milk
45 g bread crumbs
35 g sesame seeds
oil
Spices Salt, pepper
For the sauce:
4 tbsp bedda Mayo
4 tbsp vegan yogurt
1 tbsp. freshly chopped dill
1 tsp lemon juice
1/2 tsp agave or maple syrup
5-8 small cornichons, chopped
1 clove garlic, chopped
Spices Salt, pepper
INSTRUCTIONS
1
Cut the bedda Greek Style in half lengthwise and then divide each half into two triangles.
2
Put 50 g of flour in a bowl.
3
In a second bowl, mix 20 g of flour, and 100 ml of oat milk to form a thin dough.
4
Place the bread crumbs, sesame seeds, salt and pepper in a third bowl and mix.
5
Have 4 forks ready. Two for the wet ingredients and two for the dry. Do not poke the bedda Greek Style pieces with the fork, just pick them up on the fork surface.
6
Pick up a bedda Greek Style piece with the two "wet" forks and put it in the flour. Then, with the two "dry" forks, cover the Greek Style with flour and then put it in the bowl of dough. Cover completely with dough, let possible excess drip off and then place again in the flour. Cover with flour and place again in the dough bowl and cover with another layer of the liquid dough. Then add to the bowl with bread crumbs and sesame seeds and cover completely.
7
Place on a plate and repeat with remaining bedda Greek Style pieces.
8
Heat the oil in a deep fryer or a pot. Add the breaded bedda Greek Style pieces to the hot oil and deep-fry for 2-5 minutes until golden brown. Then drain the bedda Greek Style pieces on paper kitchen towels before serving.
9
For the tartar sauce, mix bedda Mayo, yogurt, dill, lemon juice, agave or maple syrup, cornichons, garlic, salt and pepper until well blended.